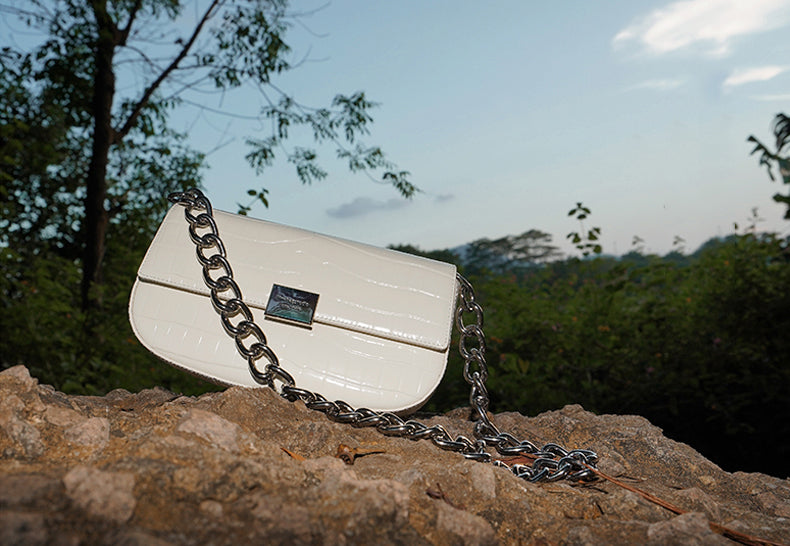 Bag Trends to Inspire Your Spring/Summer 2021
This season, it's all about sharp corners, bright chains, and large trunks.

At this point, who really knows how often we will be relying on our handbags as much as we used to? But if I know you all like I think I do, it's safe to assume that no matter what the new norm ends up being, buying cute accessories will always sound like a good idea.

While curating the perfect ensemble is crucial, it's also just as important to complete any look with a bright accessory in the form of a bag. A guide to the most fashionable bags of the Spring/Summer 2021 runways to inspire your wardrobe for the impending warmer season.

1.Chain Strap
Chains are the most famous trend of recent seasons. For the summer, bags with multi-colored links are an excellent option. A bright chain is a fresh and boring solution to pair with a casual look.

2.Candy Color
This season, candy color bags take us back to the colorful summer. Bright, young and energetic.

3.Miniature
After taking over last year, these tiny bags have not gone out of style.

4.Geometry
Designers increasingly began to experiment with non-standard shapes and shapes. This season, you should forget about the banal square or circle, now a sharp degree of angles and straight lines will become a must-have.

5.Wicker
Several seasons of wicker bags are on the topical list. This year is no exception.

6.Multi-Bag
This season, fashion dictates its own rules. If you're always faced with the choice between a shopper bag or a petite version, wear them together! Brands not only advise to combine styles, models, and sizes, but also insist on it. This option is suitable for lovers of something extraordinary and completely original.